It's March. Today in Seattle is sunny and 65 degrees, tomorrow it's forecasted to be 50 and pouring rain. Two weeks ago it was snowing, it might snow again in two weeks. The groundhog really knows nothing, and I never get my hopes up for long about it being 'almost' summer until mid June or July. But that doesn't stop me from asking the same question basically every day:
Is it summer yet?!
Yesterday was a beautiful spring day for the farmer's market, so I went to see what was in season at our local farms. Still lots of hearty greens, carrots, apples, and some great looking beets! I feel like kale has been in season for forever, but this is the year that I actually grew to like kale- so I'm ok with it.
ARE YOU A FAN OF KALE? 
I don't blame you if you aren't. It's bitter and a little weird tasting with a different texture than other dark leafy greens. But it's also packed with fiber, protein, iron, magnesium, phosphorus, Vitamin A, Vitamin C, Vitamin K, Vitamin B6, calcium, and potassium. That's a lot of good stuff, if you can get over the not so great taste! I used to just stick it in my smoothies (where you couldn't taste it at all) and convince myself that everyone pretended to like kale to be cool, but everyone secretly hated it.
But a few months ago, I decided I wanted to start incorporating kale more and figure out ways to enjoy it. Thanks to lots of experimentation, I now enjoy kale three ways:
'IS IT SUMMER YET?' SALAD IS PERFECT FOR FIGHTING THE MARCH BLUES, IT TAKES FULL ADVANTAGE OF THE HEARTY GREENS AND APPLES THAT ARE STILL IN SEASON BUT GIVES YOU A HINT OF SUMMER WITH THE FRESH BLUEBERRIES. 
Added bonus: every ingredient in this salad is good for you. Because if you are anything like me, you know it's time to stop shoveling comfort food down your throat and gear up for shorts season
RECEPIE
"Is it Summer Yet?" Salad
Course Main Dish , Side, Snacks
Cuisine American
Pre Time 05 Minutes
Cook Time 05 Minutes
Serving 02 Serving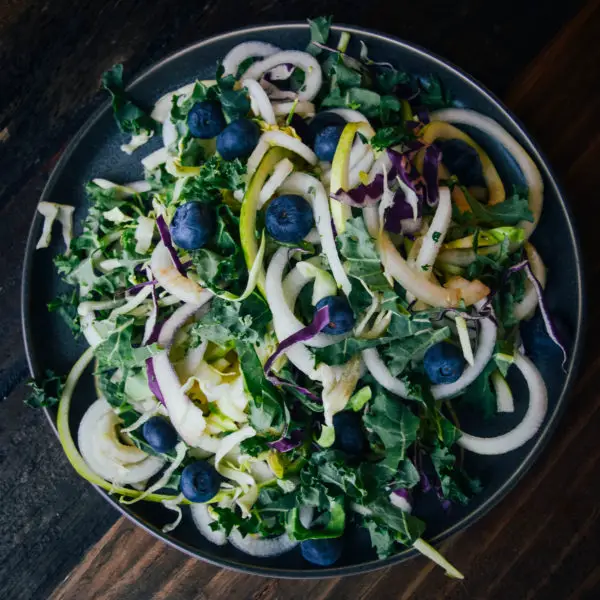 INGREDIENTS
INSTRUCTION
Toss all fruit & veggie ingredients in a bowl, then add dressing and stir.
Let the dressing sit and 'marinate' the ingredients for 5-15 minutes. This lets the kale soak in the flavor and become less bitter!
Serve as a main meal or a side.