Every Sunday I scroll through Pinterest, Instagram, my favorite blogs, and other random sources for recipe inspiration for the following week. This last week I was just about done and ready to head to the store when I was flipping through Instagram and came across one of my favorite accounts @alison_wu. Alison makes the prettiest dishes ever, if you are into looking at healthy but to-beautiful-to-eat dishes, head over there and give her a follow!
Anyways, like I said, I was about done and ready to go with a list in hand when I came across this beautiful veggie-ful green pasta salad on her feed. Frickin' perfection in an image. I thought about it all through my hellish grocery shopping experience (stay tuned for a post next week called 'I hate grocery shopping') and finally conceded to making my own version of it.
EASY GREENSY…
Her picture included some chickpea pasta, homemade pesto, and a veggie called a "fiddlehead", which I had never heard of before and knew they didn't have at Trader Joe's. I already had half a box of regular pasta, some asparagus that was crazy cheap, and zero energy to make pesto. Thank goodness Trader Joe's makes a great jarred pesto for a few bucks! I also picked up some green beans, kale, feta cheese, and microgreens because somehow buying microgreens makes me feel like a fancy food blogger and I need that occasionally.
…LEMON SQUEEZY?
Ok, to be honest here- the lemon squeeze added in was mostly (at first) for the title. The pesto could have been enough of a 'dressing', but I wanted to go all in and add some lemon- and it was worth it! Gives it a little extra kick of something that makes you want another bite every time.
SO, WAS IT ALSO PERFECTION IN AN IMAGE?
My photos will never be as perfect as Alison's, but I think mine are pretty damn great anyways. And this recipe was perfection in a bowl for multiple lunches this week!
Update: I was just at the farmer's market and I found fiddleheads! Will try them this week- stay tuned on Instagram!
RECEPIE
Easy Greensy Lemon Squeezy Pasta Salad
Course Main Dish , Side, Snacks
Cuisine American
Pre Time 15 Minutes
Cook Time 30 Minutes
Serving 04 Sides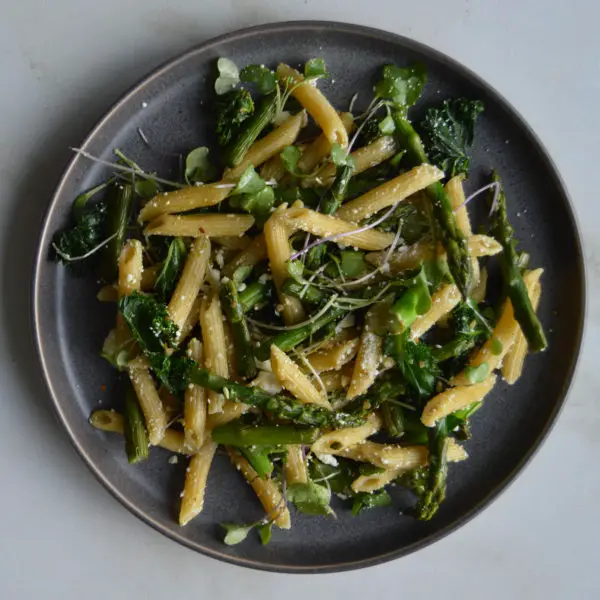 INGREDIENT
INSTRUCTION
Cook pasta noodles until desired texture. I prefer mine on the al dente side, that way the pesto doesn't make the salad soggy!
If you haven't cooked your veggies yet, saute & steam them now.
Then mix! First the noodles and the pesto, then add the veggies. Mix in the feta cheese last. Enjoy!