I've just given in to what my body wants every morning: carbs. If I don't get a piece of toast, a bagel, a muffin or something bready in the morning then I just am a grumpy, hangry mess. I used to tell myself that all carbs were terrible for you, but that isn't true! Everyone responses differently, but for most of us carbs aren't the devil. Good carbs that is!
The main purpose of carbohydrates in the diet is to provide energy. Most carbs get broken down or transformed into glucose, which can be used as energy. Carbs can also be turned into fat (or more pleasant sounding 'stored energy') for later use.
BUT NOT ALL CARBS ARE CREATED EQUAL! 
There are many different types of carbohydrate-containing foods, and they vary greatly in their health effects. Let's look at the two different kinds of carbs, simple vs complex:
Simple carbs are the devil.
Ok, that might be extreme- but simple carbs are the "bad" carbs! The list of simple carbs includes sugar sweetened drinks, glazed pastries, white breads and pastas, boxed cereals, and other deliciously addictive items. Many studies show that simple cards are associated with health problems with type 2 diabetes and weight gain.
Simple carbs cause blood sugar levels to spike and then crash, which tells the body that it needs more high carb foods. And the roller coaster continues! These carbs are no good and basically empty calories that do nothing for you.
Complex carbs are your golden ticket.
Complex carbs are unprocessed and contain the fiber found naturally in the food, as opposed to simple carbs that have had the natural fiber stripped out during processing. This list includes: Fresh vegetables and fruit, oats, beans, potatoes, and whole grains. These foods are generally healthy (everything in moderation, right?).
Complex sources of carbohydrates are loaded with nutrients and fiber, and don't cause the same spikes and dips in blood sugar levels.
So now I eat carbs in the morning with no regrets.
MY WEAKNESS? MUFFINS & DOUGHNUTS. 
My bus drops me off right next to Mighty-O. Mighty-O makes the best apple fritters in Seattle. Apple fritters are definitely on that list of simple devil carbs. Because I believe in everything in moderation, I treat myself to a fritter every Friday morning. If I let myself eat whatever I felt like, I'd have one every morning. Not just because they are good, but because my body needs the carbs and it doesn't differentiate the difference between simple and complex when it comes to cravings.
SOLUTION? FEED MYSELF COMPLEX CARBS BEFORE I SEE THE BEAUTIFUL GOLDEN MIGHTY-O SIGN.
Remember, complex carbs include fresh fruits and whole grains.
ENTER: EASY APPLESAUCE BANANA MUFFINS. 
These muffins are so easy to whip up, need no excess sweetener, and are not the devil! And if you are feeling fancy, add a little granola crunch to the top.
RECEPIE
Easy Applesauce Banana Muffins
Course Side, Snacks
Pre Time 15 Minutes
Cook Time 30 Minutes
Serving 06 Muffins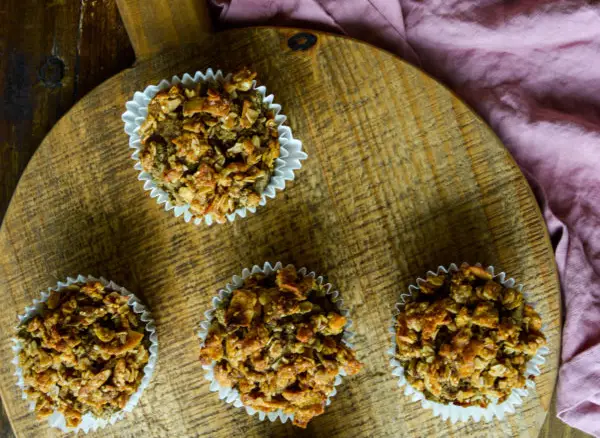 INGREDIENT
INSTRUCTION
Preheat oven to 350
Mix the dry ingredients in one bowl, and wet ingredients in another bowl. Mush the bananas until fully incorporated.
Slowly mix the two bowls together, stirring as you go.
Once fully mixed together, pour into muffin tins. I made 6 large muffins, you may get more if you make smaller muffins.
If you decide to make the granola topping, mix the granola and maple syrup until the granola is evenly coated. Divide evenly and top each muffin.
Bake for 25-30 minutes, until the top is crispy and a toothpick comes out clean.
These muffins are best enjoyed hot and fresh, but will last a day or two in an air tight container.