It's no secret that I love farmer's markets. Check out my Instagram any weekend and you'll see I'm at one of the local markets. I'm so excited for the market closest to us to open for their summer season next weekend- it means I can skip the 30 minute drive and still get my favorite items.
SPRING FARMER'S MARKETS
Spring is a great time to stick your toes into farmer's markets. Lots of produce, but not so much that you will be overwhelmed with the 20 different kinds of peaches and coming home with five flats of berries because they all looked so good. The best items to buy right now are mushrooms, carrots, beets, greens, potatoes, apples, and green onions that are literally three feet long. Don't believe me? Check out my post from the other day.
I was feeling a little uninspired a few weeks after my farmer's market run. I got my usual in season suspects, but I didn't know what I wanted to do with them! But that evening, Matt and I tried out a new restaurant for dinner. It was the middle of Seattle Restaurant Week(s), a two week period where a bunch of restaurants offer a three course dinner for $33. I've been wanting to try out a restaurant down the hill from us that is known for it's farm to table dishes. (Normally a three course dinner here would cost upwards of $70). We just won't mention the fact that we also had a few drinks and a bottle of wine…
I ordered the beet steak in mushroom gravy topped with goat cheese. It came with potatoes and roasted veggies and was one of the most delicious things I've ever ordered. And they weren't skimpy with the portions either!
VEGAN MUSHROOM GRAVY
I knew that I had the perfect ingredients to re-create that dish at home, minus the goat cheese. The inspiration was back! This vegan mushroom gravy is perfect for potatoes, veggies, biscuits, steak (if you don't care about the vegan part!), or even just to dip bread it.
Aren't a mushroom fan? Me neither! But mixed in with all the delicious other flavors in this gravy, it's just a subtle earthy taste that is just the perfect amount.
RECEPIE
Vegan Mushroom Gravy
Course Side
Pre Time 05 Minutes
Cook Time 15 Minutes
Serving 2 Serving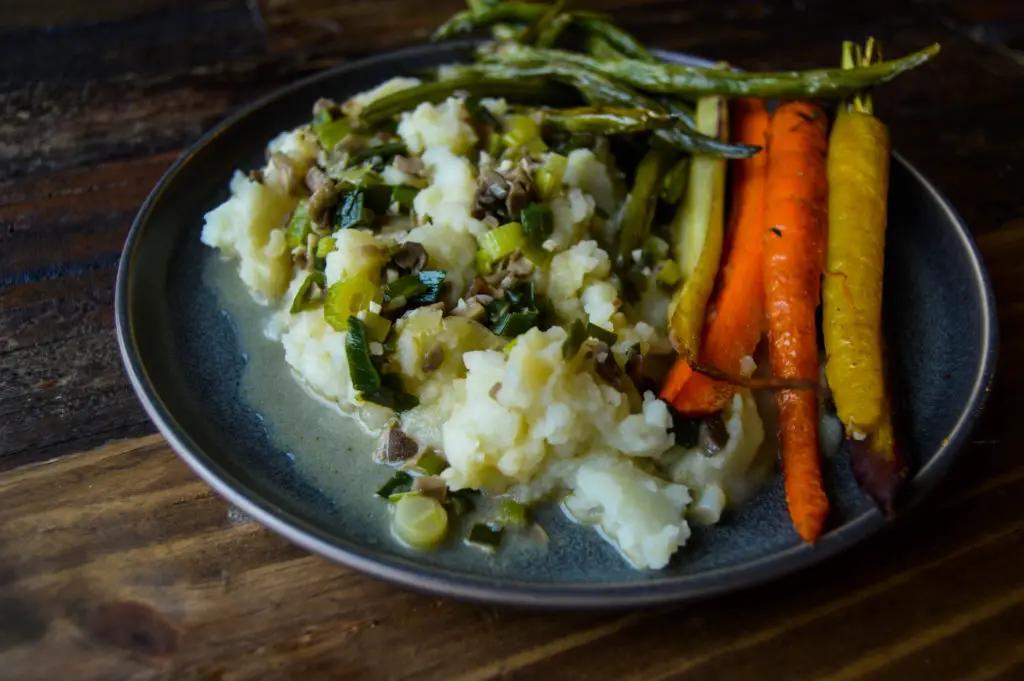 INGREDIENTS
INSTRUCTION
To prep ingredients, finally chop mushrooms and scallions.
In a small saucepan, melt butter on medium high and add mushrooms, scallions, and garlic. Saute for a few minutes until fragrant and slightly browned.
Add vegetable broth and fresh thyme, then simmer on low for about 10 minutes.
In the last few minutes, add the soy milk for a slightly creamier taste. Taste, then adjust with salt and pepper. If desired, add a tablespoon or two of flour to thicken the gravy.
Serve hot with potatoes, veggies, or whatever else you like!