Are you a fan of cereal or protein bars? I am, but I'm so picky! I'm picky about ingredients (I want to know there are wholesome ingredients and no weird fillers), taste & texture (I've had so many bars that are hard to swallow due to a terrible taste or texture), and price (good bars aren't cheap!). But they are so convenient to have around for those days that you can't stop snacking or, in my case, when you are stuck in traffic during rush hour and all you want is junk food!
MY FAVORITE SNACK BARS: 
KIND Bars: These are my all time favorite for taste and price. My favorite (Cranberry Almond) is linked, but they have so many flavors- even funky ones like Thai Chili! Ingredients wise, it varies by bar. Unfortunately my favorite does have added sugars (the cranberries are tossed in sugar), but at only 8 grams- I don't mind every once in awhile. Many options have no added sugar, all are gluten and dairy free! I can often find these for $1-$1.50 each on sale at the stores.
Clif's Builders Bars: The chocolate mint bars are my go-to meal replacement bars or pre-workout bars. Packed with 20g of protein and an ingredient list I can read, they are as tasty as thin mint cookies but as filling as a bowl of cereal.
RxBars: I love that these bars are made with a simple ingredient list! Taste is pretty decent as well, although texture can be a bit chewy. I haven't tried them all, but the blueberry one is my favorite. I haven't tried them all mostly because they are $2 each at Target and I like to make my grocery budget stretch as far as possible, which brings me to:
CACAO COCONUT CHERRY BLISS BALLS
Ok, how many more 'C's can I pack in there? Oops, forgot 'Chia'! But each of these ingredients is just as important as the rest. And the title doesn't mention the glue that holds all of this goodness together: the dates. But Cacao Coconut Cherry Chia Date Bliss Balls is just too long of a title.
So I was at the store the other day, staring at all my options for snack bars. I was overwhelmed by the choices, as my Kind bars were not on sale and I didn't want to pay $10 for a weeks worth of RxBars. So I thought "Why not experiment with a Valentine's Day theme bliss ball?". So I went to the bulk bins and gathered some inspiration.
If you've ever seen RxBars, you'll notice that dates are the main ingredient in all the bars. That's because dates are filling, slightly sweet, and hold everything together well with their stickiness! So I picked up about a cup and a half of dates, some raw coconut shreds, and some fresh cherries. I was going to grab dried cherries, but the dried cherries had been tossed in sugar- my one problem with the KIND bars.
Once home, I added a little bit of cacao powder, some chia seeds, and a little bit of honey to help everything stick together. $5 and 10 minutes later, I had 12 bliss balls ready to go! Try these with an easy Oatmilk Cinnamon Vanilla Latte for a great morning snack or afternoon pick-me-up.
RECEPIE
Cacoa Coconut Cherry Bliss Balls
Course Desert, Snacks
Pre Time 10 Minute
Passive Time 1 hours
Serving 12 Balls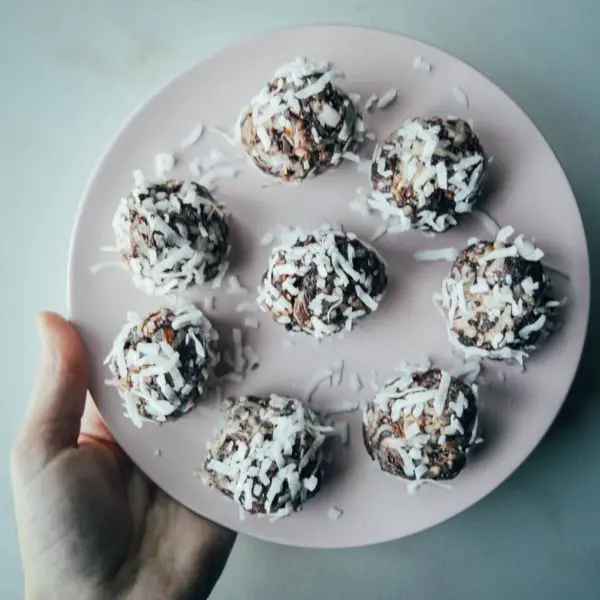 INGREDIENT
INSTRUCTION
Add all ingredients (half of the coconut!) to a food processor and pulse until a thicky, sticky paste is made.
Play around with the ingredients if needed, honey will make the paste stickier and cacao powder will make the paste drier.
Scoop into golf ball sized balls and roll around until a ball is formed.
Roll around in the coconut flakes until covered.
For best results, refrigerate for at least an hour to let it set! I usually eat two at a time.