Before moving to Seattle, my main (and only) experience with Thai food a place called Rice Paddy in my college town of Marquette, Michigan. The Rice Paddy was famous for a few things:
Being excellent hangover food.
Only accepting cash.
Having ridiculously long wait times on Sunday afternoons due to the mentioned hangovers.
And the owner Aoy, who would always yell "Hey boyfriend!" anytime someone walked in.
Aoy was such a sweet little Thai lady who loved what she did and shared that happiness with anyone who wanted some. The plates were huge, the prices were cheap, and a large portion of the proceeds went back to Thailand to help people in her native village. If you ever end up in Marquette (which everyone should visit!), make sure to stop by the Rice Paddy to say hi and pick up some cream cheese wontons and pad thai.
THERE IS MORE TO THAI FOOD THAN PAD THAI.
Having such little experience with Thai food, I was in a little bit of a culture shock when I came to Seattle and realized there is a Thai restaurant on every other corner!  I was also surprised to find out that there was more options than Pad Thai & cream cheese wontons. To be fair, I never actually looked at the menu at Rice Paddy- I always ordered the same thing.
If you've ever eaten at a Thai restaurant, you know that menu is about 5 pages long with about 100 different options that you can't pronounce. Never bring an indecisive person to a Thai restaurant. For me though, I've realized that I love stir fried veggies with beef or pork. There are about 20 different names and dishes for this, so I always just pick the description that sounds the closest and experiment.
STIR FRIED GREEN BEANS: THE BEST STIR FRIED VEGGIE.
When green beans are stir fried and sautéed to a slight crunchiness, there is nothing better! The place down the street from Matt's apartment, Bangkok Basil, has a dish called (appropriately) Thai Basil Green Bean. I ordered it one time because it sounded great and I could pronounce it- and it was so delicious! I realized a few months ago that it would be super easy to replicate at home, so I grabbed some sweet chili sauce and some Thai basil and whipped up this easy dish as a side for my Easy Baked Samosas.
SWEET CHILI STIR FRIED GREEN BEANS
It's now the only veggie dish that Matt will eat. Just kidding, just kidding. But he did say it was his favorite vegetable dish to eat! He always asks for seconds and even requested it on the Christmas dinner table. It's so easy to whip up, a perfect introduction to Thai food or a great side dish to add some spice and color to your main course.
RECEPIE
Sweet Chili Stir Fried Green Beans
Course Side
Pre Time 05 Minutes
Cook Time 05 Minutes
Serving 04 Serving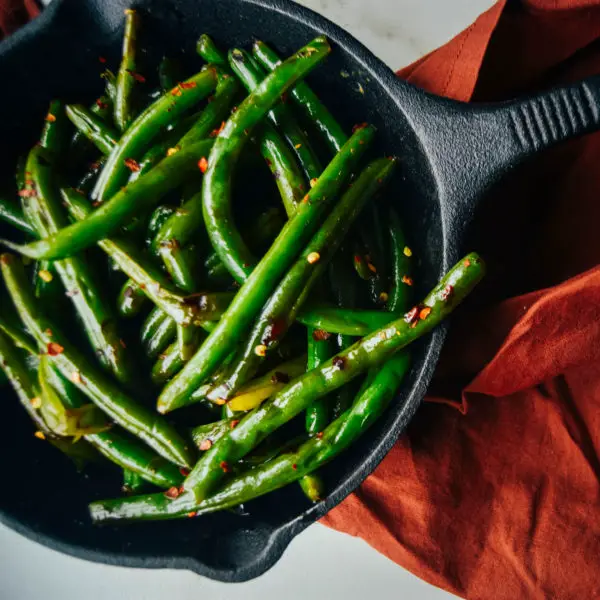 INGREDIENT
INSTRUCTION
In a large wok on medium-high heat, cook green beans in water for about 3 minutes, covered.
Uncover and drain any remaining water. Add soy sauce and stir around. Toss the beans every 30 seconds or so until you notice some crispy bits.
Continue tossing until 50-75% of the beans have crispy parts, then add in roasted red pepper and Thai basil. Toss once more, then remove from heat.
Stir in sweet chili sauce and serve immediately!