A few weeks ago I offered to host a party for a handful of friends at our new house. It was going to a wine & board game night, because we are all classy adults now who prefer to stay in on Saturday nights. And like any classy wine & board game party- I needed to have a meat and cheese plate ready. If you've ever tried to make one of these, you know the ingredients add up fast! A fancy meat here, a somewhat fancy cheese there and then all of a sudden you've spent $75 on this board. But this board? $25.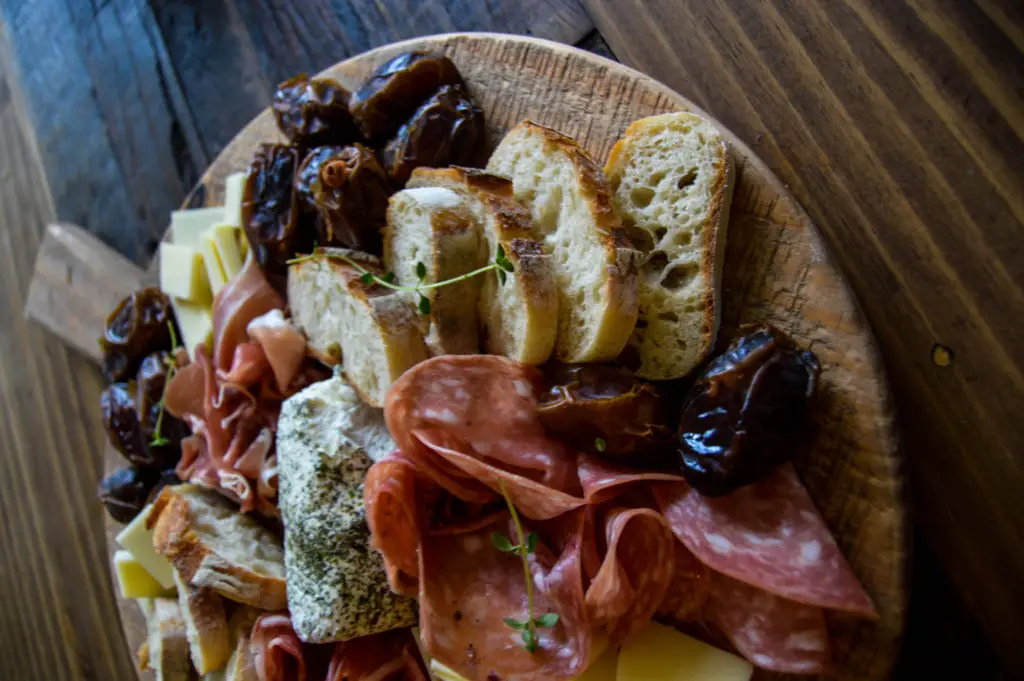 I know! It's so beautiful for $25!
And thank goodness, because as it turns out my party throwing skills have only gotten worse since college (I didn't think they could get worse than non-existent). At the last minute, all of my friends backed out for one reason or another and suddenly I was left with two bottles of wine, this amazing charcuterie board, and a cat that just wanted to chill. So I wallowed in pity for an hour or so, thought about throwing on heels and going out downtown, and then ultimately decided to throw PJs on instead and poured myself a glass of wine.
Just kidding. I drank from the bottle- I'm not that classy when I'm alone.
And then I proceeded to eat about half of the board while chilling on the couch with Shasta Cat. But you aren't reading this blog to find out all the juicy, exciting details of my life. You came here for secrets for making a charcuterie board on a budget! So here they are:
5 SECRETS TO MAKING A CHARCUTERIE BOARD ON A BUDGET
1. Buy two fancy items tops
One fancy cheese and one fancy meat is how I usually go! Make those your centerpieces. Let people think you spent lots of money and got exotic slices from your local organic butcher.
2. But really, shop at TJ's
Trader Joe's (and Aldi's, I hear) have great selections of fun meats and cheeses that won't break the bank! Don't think you have to go to the fancy shops to get the best options.
3. Shop by weight
Most grocery stores sell cheeses by weight- go for smaller cubes to get more variety for your dollars! You can spend $10 on plain sharp cheddar, or $12 on four different cheddars. My local QFC (Kroger) has a "sample" basket as well, where you can buy $3-$5 chunks of cheese that are leftover from the bigger pieces.
4. Don't forget about the other items
Charcuterie boards aren't just meat, cheese, and breads! Keep it interesting with nuts, berries, grapes, jams, dried fruits, or dates. I picked up a box of dates for $5 and used half of it to fill up holes on the board and the rest for some Cacoa Coconut Cherry Bliss Balls (unrelated to this post, but delicious).
5. Fill, fill, fill!
The last step to making your $25 board look just as good as $75 board is presentation. This isn't something I can teach, it's just something that comes with practice! I learned by looking at a few dozen on Pinterest. Spread things out, fill in the holes as you go. For an even fancier touch, add a few herbs in to give the board a pop of color.
CONGRATS! YOU'VE NOW MADE A CLASSY, BUT BUDGET(ISH) CHARCUTERIE BOARD!