Did you have Monday off? I did- for the first time in years! Martin Luther King Jr. Day is one of those holidays that isn't always a holiday for some of us, but then again when you work in healthcare: there are no guaranteed days off! On those days (ok, everyday for me) a little something special with your coffee makes going to work a little easier. Even though I had yesterday off, I still wanted a little something extra so I whipped this up!
VANILLA CINNAMON OATMILK LATTE
What's your milk of choice? I use to be a whole milk girl, I loved it. Then last summer when I decided to try a dairy free diet I switched to almond and coconut milk. I prefer to cook with almond milk and drink coconut milk, but when it comes to coffee you don't always have the option. Some coffee shops haven't started serving dairy free options yet (I got the weirdest look when I asked for it at a Dunkin Doughnuts outside of Nashville) and the ones that do cost .60-.90 cents more to customize your drink! The other day I was attempting to get some work done at a coffee shop and I forgot to order my latte with coconut milk- it was surprisingly cheap but tasted so different! I've grown to love the taste of coconut in my coffee and I don't think I'll ever go back to real milk in my coffee.
I'd heard great things about oat milk but I never tried it until I went to London in November. I tried an Oat milk Turmeric Latte there and it's was delicious! The oat milk has a little bit of sweetness that offsets the bitterness of turmeric, a match made in heaven. When I got back home, I bought some oat milk (usually found in the beverages section, by the boxed milk!) to make my own turmeric lattes.
BUT THEN I TRIED THIS RECIPE…
I've made this recipe before with coconut milk and it was good…but nothing to write home about. Then I thought I'd try with the sweet oat milk and it was the perfect mixture of sweetness, vanilla, and cinnamon- without any added sugars! (Technically 'pure' vanilla extract can be considered an 'added sugar' based on the brand, so check the ingredient list and decide how picky you'd like to be.) Now, this drink is in my normal rotation, whenever I want something a little extra.
Have you tried oat milk? I'd love to hear your thoughts in the comments below!
RECIPE
Vanilla Cinnamon Oat milk Latte
Prep Time     05 Minutes
Serving           01 CUP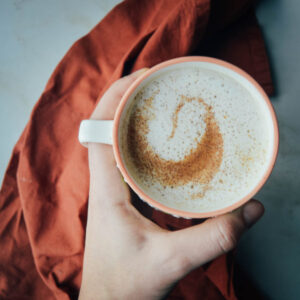 INGREDIENT
INSTRUCTION
Heat milk on the stove, add in vanilla and cinnamon.
Add hot milk to the blender, blend for 10-20 seconds until a nice foam layer has formed.
Milk hot milk and hot coffee together, adding a spoonful or two of foam on top. Sprinkle a little cinnamon on top!